Unlocking the Power in Your Health Insurance Plan's Claims Data
Health insurance companies employ actuaries to pore over data to spot trends and predict the likelihood of future outcomes based on past events. With the right guidance and tools, the same power of information can be yours as a health insurance customer. Here's how a little understanding can deliver a lot of insight into how you can keep health insurance costs down and make sure you never overpay again.
It starts with the goldmine of information in your health insurance policy's claims data. While you can't guarantee timely access to your data (that's between you and your insurance provider), this article will show you how understanding and using your data is a route to self-empowerment and getting the best possible health insurance coverage at the lowest possible cost.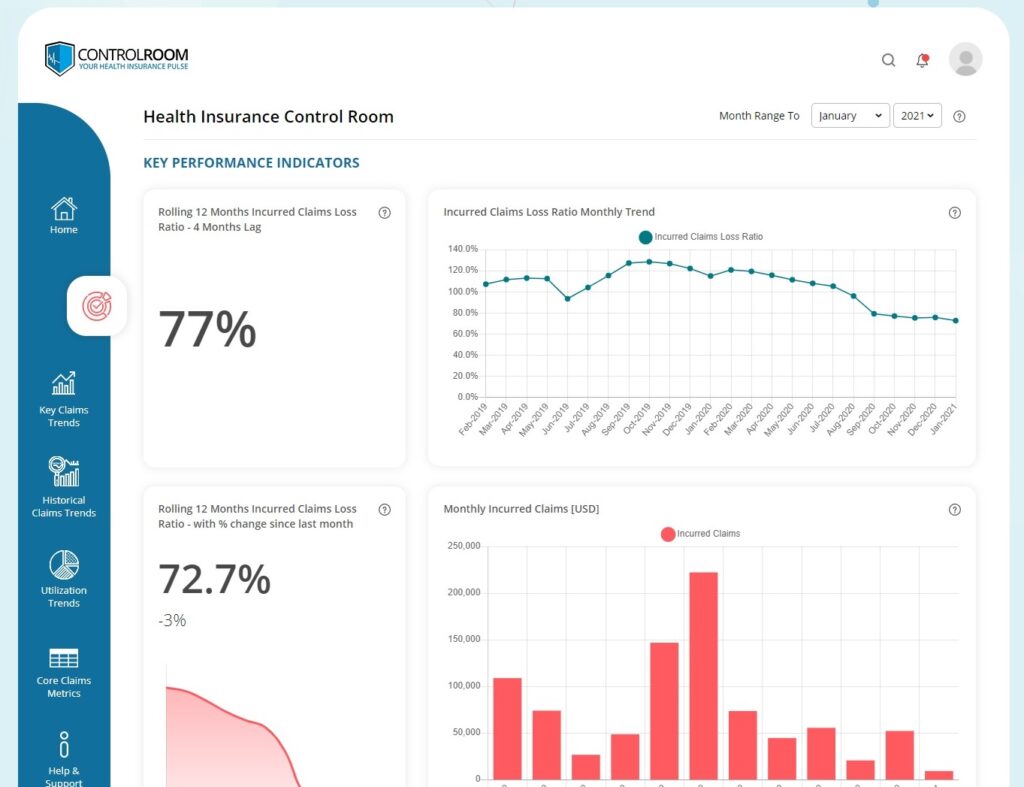 Understand Your Plan's Loss Ratio…
Add up all the health insurance premiums you pay during a policy year, and do the same with all the claims. The ratio of those two numbers is your loss ratio, and knowing how to interpret it can help you emerge as a winner. The loss ratio is the key number your insurance company is looking at when determining your renewal pricing.
An insurance company strives to make fair profit, with the administration costs accounting for between 15-25% of the total premiums you pay. If your loss ratio is higher than 70% you can expect a health insurance premium increase at renewal time. If the loss ratio is substantially lower you can expect your rate to stay the same or maybe even decrease.
…But Include Some Lag Time
Every health insurance claim can be tracked using two key dates: incurred date (the month that treatment was actually received) and paid date (the month when the claim is paid by the insurance company). While there are certainly exceptions, generally speaking 90%+ are paid within 4 months of the treatment date.
We therefore need to factor in this 4 month lag time before your loss ratio might be considered accurate and credible. If you don't factor in this lag time, your insurance company will always say there are more claims to come. The best indicator therefore of how your health insurance plan is currently performing is to take the 12 month period that finished 4 months ago.
For example, if you are reading this article in January, you should look at your loss ratio over the period October to September. Having factored in the necessary 4 months' lag time, the total incurred claims for this period – and corresponding loss ratio – are an excellent snapshot of the current health of your health insurance plan. You can also use legacy data to show any seasonal trends.
Do It Monthly and Save Year-on-Year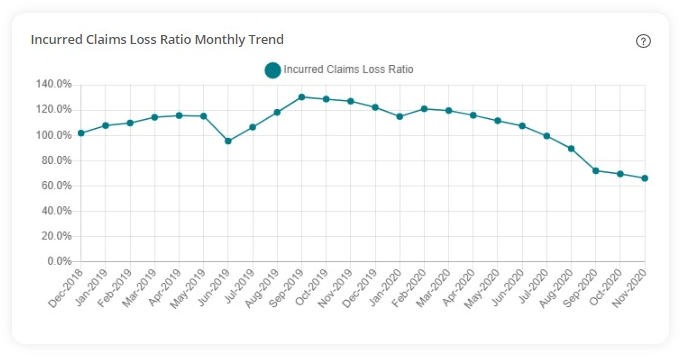 Follow this formula correctly and you get a great estimate of what you might expect renewal premiums to be at the end of your policy year. Most importantly, you can do this every month, giving you better information and amazing insight for budgeting and ammunition for negotiating the best deal when it comes time to renew.
With at least 12 months' legacy data, you can compare the trend over time. If the numbers are trending upward, your plan's performance is getting worse with more claims. With an upwards trend and a loss ratio of over 70%, you should prepare for a premium increase at renewal. A downward shows performance is getting better with fewer claims. Fewer claims with a loss ratio of less than 70% and you may be able to negotiate a decrease.
Stay in Control of Your Renewal
Given how important the data is to help you understand the performance of your plan, why is your health insurance plan's claims data so hard to get and sometimes even harder to understand? Although few of them will admit it, health insurance companies don't really want you to have access to the data, much less understand it. While insurance companies are getting better at understanding the need for data transparency, the reality is that it's better for them if their clients don't have timely access to their plan's claims data, so that they can stay in control of the process and renewal conversation.
At One World Cover we believe that success for our clients is achieved by shifting that control and power from the insurance company, and putting our client's in control. It's why we are spearheading a movement in the health insurance industry for more transparency and clarity that comes from health insurance clients not only having timely and regular access to their data, but also being able to understand and benefit from it.
To achieve the goal of empowering our client's we have developed an online "software as a solution" (or SaaS) platform called Control Room, a health insurance claims data analysis platform, where our client's can view and understand their health insurance data, updated monthly. If you'd like to find out more about how One World Cover's health insurance claims data analysis platform can unlock the power in your health insurance plan's claims data please get in touch: [email protected] or click here to contact us.
Click here to read for Part 2 in this series on Making Sense of Your Health Insurance Claims Data